News
2014 Editor's Pick - Best of Worship Resources
November 6, 2014 @ 10:36am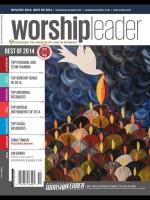 Congratulation to Quick Worship
Worship Leader Magazine: 2014 Editors Pick
Category: Planning Software/Apps
Description: Mange Teams, create schedules, manage songs and setlists, and more; this planning software is more song/setlist-centric. So if that's your cup of tea, this might be the option for you.
---
Here at Worship Leader Magazine we have a longstanding connection to the biblical theme of New Song in worship; it permeates all that we do. We look to publish articles and entire issues that are filled with new song, and this extends to the music we include on Song Discovery. As well our hope is that the thoughts, teachings and the music leadership presented at the National Worship Leader Conference reverberates with new song. When you see or hear new song in worship, something simply resonates in your sprit. and the natural response is to praise God for who he is.
New song doesn't have to be "new" either. Often we find new song in our recovered past. Maybe a rediscovery of a forgotten ritual that refreshes our connection to the Spirit of God.
This issue (Nov/Dec 2014) is filled with our editorial picks for the best of worship resources, and we believe it is still in keeping with our passion for new song. The products that are presented here are intended to help you guide your community to the presence of God. They will enrich your ministry; they will help you with your tasks; in some cases, they will offer you new music to share with your congregation.
Yes we are shining a light on some amazing resources. But our ultimate goal is the same as it has always been: shine a light on what we believe will help you to shine a light on the only one who matters - God in three persons, the blessed Trinity.

What is Worship Leader Magazine & Brands
Worship Leader is the most trusted brand and authoritative voice in the worship community; serving the church, industry and academic market with an editorial focus on education, leadership, technology and theology. Designed and written for the decision makers within the Church – all those who participate in creating an atmosphere of worship – Worship Leader magazine, Song Discovery, WorshipLeader.com and the National Worship Leader Conferences inspire, encourage and equip church leaders to make informed decisions and create a participatory culture within their worship communities
Comments