News
Voted Best of the Best for 2010
October 13, 2010 @ 1:44pm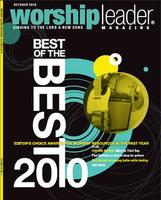 Each year as an editorial team we take a look back and mine the Best of the Best of worship tools and resources from the previous year. We share the joy of discovery with you. And often, you are the agent of that discovery, sharing your wisdom with us. Our purpose is to enrich your ability to lead and serve, your relationship with God, and to satisfy the adventurer in you, always on a quest for the tools that well best connect your congregation with God in worship. Each year, our desire is less to create a hierarchy of resources, and more a way to, quite simply, assist you in your job. There are a lot of resources out there vying for your attention, and our hope is to shine a light on a few of them, and make your life a little easier.

While individuals write the descriptions for each section of this resource list and are credited for doing so, the choices reflect the shared wisdom of our entire editorial team, both staff and contributing editors and our readers (some of you even gave your suggestions via Twitter and on our Facebook page). Inclusion does not mean that we consider every single track on every album as exemplary or perfect in production or composition, or that we concur with every word in every book, or think every tech gadget or website is the penultimate. What it does mean, is that the project, book, resource, tool, gadget, online site is, as a whole, valuable for worship leaders or pastors or instrumentalists or tech stewards. They are records we would want to listen to, books we would want to read (and reflect on), tools, software, gear, and instruments we would want to add to our home studios or our church cache, websites that serve us in our jobs and that we would want to revisit, and insight we would want to share with our friends: you.

We look for resources to deepen our spiritual understanding, enrich our worship and worship planning, grow our love for God and his body, meet our practical needs and help us manage our time and prioritize our steps. Resources to help us sound better and make it easier for our congregations to enter into worship, and theology that keeps the main thing, the main thing. And then we consider the things that make us laugh, bring us joy and are just plain fun.

All of this comes together each year in the October issue of Worship Leader. All of that said, we are proud to offer the Best of the Best in worship resources for 2010.

QUICKWORSHIP.COM
Quickworship.com helps you efficiently plan your worship and worship order with online-based software that offers a Song Database that can save you and your whole team time on copying, research, and burning by listening and viewing directly. You may forward and share lyrics and chord charts with team members and the software automatically keeps track of song use for CCLI. Our only proviso is that the site's implication is that planning is a stress and they want to help you spend less time in planning and more in worship. We actually know some leaders who see planning as worship and an opportunity to lean on God for spiritual direction while doing a little creative research.
Links
Comments